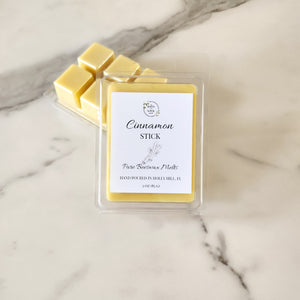 The Bath and Wick Shop
Cinnamon Stick Pure Beeswax Melts
Regular price
$9.00
$0.00
Unit price
per
Scent Notes:
Top - Cinnamon, Nutmeg
Middle - Cinnamon, Clove
Bottom - Wood, Cinnamon, Tonka Bean, Vanilla
All of our wax melts are hand poured using 100% pure beeswax, organic unrefined coconut oil, and phthalate free fragrance oils that are infused with natural essential oils. We chose to use beeswax because it is the most natural and non toxic wax. Beeswax produces negative ions when burned, which help neutralize pollutants in the air and just improve air quality in general. We never use any dyes in our wax melts! Our beeswax is 100% pure from USA bees. 
Item is for one 6 cube container approximately 3 ounces
Our containers are made with PET plastic and contain No PVC, BPA, or chemical phthalates. They are non toxic & recyclable
Wax Melt Safety:
-Remove cubes from packaging and place in a wax warmer
-Never leave wax warmer unattended
-Keep away from children and pets
-Do not add water
-Do not melt on stove top or other non approved appliance
-Always melt in areas away from flammable objects
---
Share this Product
Cinnamon Stick Pure Beeswax Melts
Clean, nice scent - Thank You!
Clean, nice scent - Thank You!
---